If you love the spicy, not-too-sweet taste of ginger beer, you'll love these ginger beer mocktails. These drinks are chock-full of vitamin- and antioxidant-rich juices, but they're fancy enough to make you feel like you're drinking a cocktail. And when you're ready for an alcoholic beverage, I've provided alcohol suggestions to easily transform these mocktails into cocktails.
This post contains affiliate links to products and services we recommend. We may make a commission, and there is no cost to you.
Ginger beer is not actually beer and contains no alcohol. It's a stronger, spicier, and less-sweet version of ginger ale. I love the robust taste and the fiery kick of ginger. Some of my favorite ginger beers include:
Beet Ginger Beer Mocktail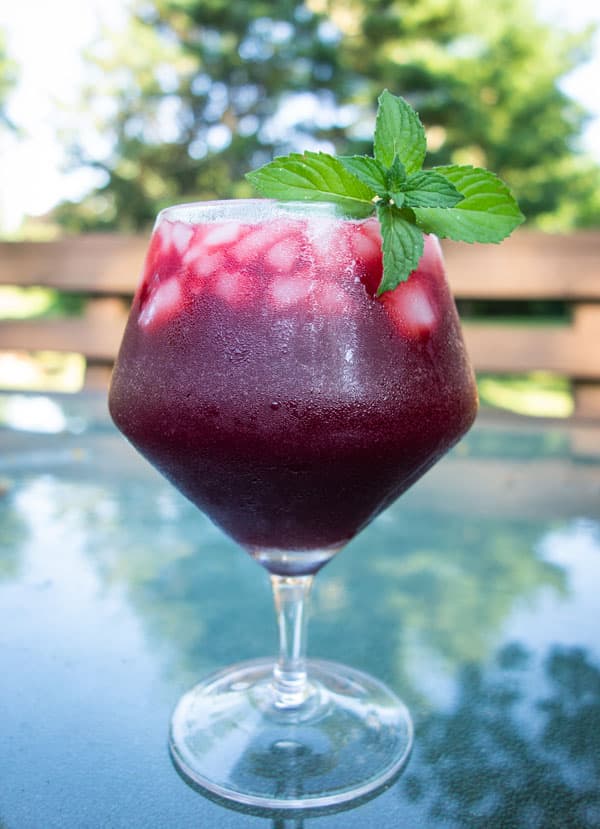 Beet juice is a delicious, super-healthy ingredient for mocktails. Even if you don't love the flavor of beet juice, it transforms in this delicious, vitamin-packed drink. It also adds amazing color!
Put the mint leaves and lime juice in a cocktail shaker and muddle gently. Add the ginger honey syrup, beet juice and ice, then shake until frosty. Strain into a glass with fresh ice and top with ginger beer. Add a sprig of mint for garnish.
Make it a mule by adding 1.5 ounces of vodka!
Double Ginger Lemon Mocktail
Getting bored with plain water or seltzer? This mocktail will level up your hydration game!
1 oz fresh-squeezed lemon juice
1/4 tsp freshly-grated ginger
seltzer or sparkling water
ginger beer
lemon slice (or wedge) and blueberries
Mix the fresh ginger into the lemon juice in a tall glass. Top with equal parts seltzer and ginger beer – or use whatever ratio tastes good to you! Top with a few blueberries and a slice of lemon.
This mocktail is just screaming for a couple ounces of your favorite gin!
Ginger Sunrise Mocktail
This mocktail is super easy to make. Simply stir together the shrub and all the juices with ice and top with ginger beer. It's delicious in the morning, after a workout, or any time of day!
1/2 oz ginger shrub
1/2 oz lime juice
2 oz pineapple juice
2 oz orange juice
ginger beer
Add 1.5 ounces of tequila and a splash of grenadine for a tasty riff on the Tequila Sunrise!
Ginger Pineapple Grapefruit Mocktail
The sweet flavors of pineapple and strawberry are balanced with grapefruit, bitters, and ginger beer in this beautiful mocktail.
1 oz pineapple juice
1 oz grapefruit juice
1/2 oz strawberry simple syrup
2 dashes Angostura bitters
ginger beer
Add all ingredients except the ginger beer to a cocktail shaker with ice. Shake well until the outside of the shaker is cold and frosty. Strain into a tall glass with fresh ice and top with ginger beer.
Add 1.5 ounces of bourbon for a delicious cocktail!
Ginger Blood Orange Mocktail
This mocktail is made with ginger beer and another carbonated beverage I want to tell you about – HOP WTR.
HOP WTR is a sparkling water that is brewed with hops, giving it a light, beer-flavored seltzer taste. It's completely non-alcoholic, but it claims to give you a "buzz" due to the addition of adaptogens (herbs that work to counteract stress in the body) and nootropics (supplements that may improve cognitive function). It's calorie-free, sugar-free and gluten-free, and tastes a lot better than a regular seltzer.
After trying out HOP WTR for several days, I can say that for me, it helps take the edge off a stressful day. I feel a bit more relaxed and little more focused after I drink a can.
To make this mocktail, you'll need:
1 blood orange
1/2 teaspoon freshly grated ginger (or more to your taste)
ginger beer
1 can Blood Orange HOP WTR
In a tall glass, mix the juice of half the blood orange with the freshly grated ginger. Add ice to the glass and top with HOP WTR and a generous splash of ginger beer. Drop in a couple slices of blood orange and give it a good stir before drinking.
(Note: In the photo above, we made our mocktail in a smaller glass because we drank half the can of HOP WTR before making the mocktail.)
It's not recommended to mix HOP WTR with alcohol. To make this a cocktail, take out the HOP WTR and add 1.5 ounces of orange flavored vodka.
These ginger beer mocktails are the perfect way to mix yourself up a fancy beverage while staying sober and healthy. Cheers!