Stay up to date on all the amazing cocktails we create by subscribing to our email newsletter. Twice a month, we'll email you our latest recipes, as well as recommendations and reviews of mixers, bartending tools, and more.
As a free bonus when you subscribe, you'll receive a link to download our "Ultimate Guide to Simple Syrups" – filled with more than 40 recipes for flavorful simple syrups you can easily make at home! Just enter your email address below.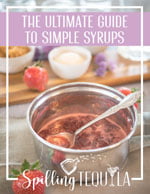 Subscribe and get our free "Ultimate Guide to Simple Syrups"
as well as notifications when we post new cocktail recipes!