This Pine Gin and Tonic recipe may seem a bit untraditional. Simple syrup and ice cubes made from pine needles? Who wants to drink a tree? Trust us – it's surprisingly tasty (not to mention GORGEOUS!), with an earthy flavor that brings winter and Christmas to your taste buds.
This post contains affiliate links to products and services we recommend. We may make a commission, and there is no cost to you.
This cocktail involves a couple extra steps that you might want to prep the day before you actually want to make your drinks. You'll need at least 2-3 hours to make your ice cubes and simple syrup.
How to Make Pine Ice Spheres and Pine Simple Syrup
The first step in creating this beautiful drink is to make the pine ice spheres. Start with a set of sphere ice molds. Place a small twig from a pine tree into each, cover with water, and let them freeze up.
Next, make your pine simple syrup. Simple syrup is a key ingredient used as a sweetener in many cocktail recipes. In its most basic form, it is made by combining equal parts sugar and hot water. Since sugar does not dissolve well in alcohol or in cold beverages, simple syrup is used to ensure that sweetness is uniformly mixed into a cocktail.
To make this pine simple syrup, you first need to gather a couple boughs from a pine tree. We used about this much:
Remove the needles from the branches and rinse them well.
Combine one cup sugar and one cup of water in a saucepan over medium-high heat.
Heat the mixture to a gentle simmer for 5 minutes to fully dissolve the sugar, stirring a few times. You want to see steam coming from the surface and a few bubbles. Do not let the water come to a vigorous boil or you'll start boiling off water, which will affect your water to sugar ratio.
Lower your heat to medium-low. Add the pine needles to the pan and simmer gently for 15 minutes. Stir several times during the heating process.
Remove from the heat and cool for 5 to 10 minutes.
Strain out the pine needles and pour the syrup into a clean, air-tight jar.
A mason jar is ideal for your homemade simple syrup, and it's a good idea to sterilize your jar in boiling water before storing your syrup to guard against any bacterial growth. Store it in your refrigerator and it will stay good for about 2 weeks. If you want it to last longer, mix in a half-ounce of vodka to act as a preservative. This will extend your syrup's life to about 4-6 weeks.
You can find a lot more detail and more than 40 recipes in our Ultimate Guide to Simple Syrup.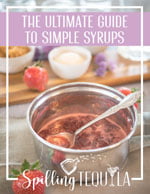 Subscribe and get our free "Ultimate Guide to Simple Syrups"
as well as notifications when we post new cocktail recipes!
Making a Pine Gin and Tonic
When your ice cubes and syrup are ready, it's time to make the drink. Find a gorgeous glass that holds 8-10 ounces. Place a pine ice sphere in the glass. (Don't forget to take a photo because it's just so pretty!)
Pour 2 ounces of your favorite gin, a half-ounce of pine simple syrup, and an ounce of fresh-squeezed lime juice into a cocktail shaker with just one ice cube and give it a quick shake. You don't want to water this drink down (since you'll also be adding tonic water), but you want it to get mixed and cold before you pour it into the glass so the pine ice sphere doesn't melt too quickly!
Strain into your glass, top with tonic water and enjoy!
Pine Gin & Tonic
Additional Time:
30 minutes
A beautiful, wintry, unique cocktail that will impress your guests.
Ingredients
2-3 pine tree boughs
1 cup sugar
1 cup water
2 oz gin
1 oz fresh lime juice
Tonic water
Instructions
To make the pine ice spheres: Place small pine twigs into sphere ice molds and let them freeze.
To make the pine simple syrup: Simmer 1 cup of sugar and 1 cup of water with the needles from 2 pine tree boughs. Gently simmer - do not boil! - for 15-20 minutes. Strain and cool.
To make the drink: Mix 2 oz gin, 1/2 oz pine simple syrup, and 1 oz lime juice with just ONE ice cube in a cocktail shaker. Give it a quick shake, then strain into a glass with your pine ice sphere.
Top with tonic water.
Please drink responsibly.
Nutrition Information:
Yield:

1
Serving Size:

1
Amount Per Serving:
Calories:

250
Total Fat:

0g
Saturated Fat:

0g
Trans Fat:

0g
Unsaturated Fat:

0g
Cholesterol:

0mg
Sodium:

0mg
Carbohydrates:

0g
Fiber:

0g
Sugar:

0g
Protein:

0g
Nutrition information is estimated and should only be used as a general guideline.