What is Mezcal? It's tequila created in a special way that gives it a smoky flavor. I recently tried it for the first time and – WOW! This mezcal recipe for my Smoky Jalapeño Margarita will take your taste buds on a thrilling ride!
This post contains affiliate links to products and services we recommend. We may make a commission, and there is no cost to you.
Confession time. I really don't know all that much about cocktails. When I decided to start a cocktail blog, it was because I truly love learning about mixology and spirits. And what better way to learn than to research and try new drinks, and write about them?
So when I read about mezcal – a smoky tequila – I was intrigued. I couldn't wait to taste this unique alcohol.
What is Mezcal?
Mezcal is a spirit that can be made from up to 50 different species of the agave plant. You might recognize the agave plant from its tall, spiky green leaves, but it's the heart of the agave – the piña – that creates mezcal. The piña is the rounded stem that resembles a pineapple.
Technically, tequila is a type of mezcal. But tequila can be made from just one type of agave: agave tequilana Weber or Weber blue agave. The other notable difference is how the agave is cooked. With tequila, the piñas are steamed in ovens and distilled.
When producing mezcal, agave piñas are roasted in underground pits. Mezcaleros dig a large pit, light a huge fire and heat rocks over it. They might use lava rocks, wood, and charcoal. Hundreds of piñas are layered over the hot rocks and it's all covered in soil to create an amazing underground smoker.
The next step is to mash the roasted piñas and store them in barrels to ferment for several days.
Mezcal can be made from dozens of agave plant varieties. The type of agave, where it is grown, the way it is roasted, and the time of fermentation are all factors in the taste of different mezcals.
The popularity of mezcal is on the rise with sales growing 25% in the last five years. You'll find it more and more on trendy cocktail menus. And while it's delicious in a mixed drink, many people recommend you drink mezcal neat (no ice or mixers) to fully enjoy its complexity.
How to Make a Mezcal Jalapeño Margarita
This mezcal recipe has become my new favorite drink! With each sip you'll taste a distinct layer of smoky, spicy and sweet.
You'll want to start by creating your own jalapeño simple syrup. Add one cup of sugar to one cup of gently-boiling water and stir to dissolve. Add in two to three sliced jalapeños, remove from heat, and let it steep for 30 minutes to an hour. Then strain and store the syrup in an air-tight container in the fridge. This will carry you through eight margaritas.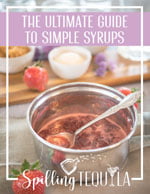 Subscribe and get our free "Ultimate Guide to Simple Syrups"
as well as notifications when we post new cocktail recipes!
Chrissy made this drink with a sugar-free twist: Dissolve 2 packets of Stevia in 2 tablespoons of water and add 2 slices of jalapeños. Let it steep for several minutes (or the time it takes to finish your first drink!), then strain and add it to your shaker in place of the simple syrup.
Check out Chrissy's Mason Jar Skinny Margarita recipe!
Once your syrup is made, this mezcal margarita comes together quickly. Simply add two ounces of fresh-squeezed lime juice, one ounce of jalapeño simple syrup, one ounce of Triple Sec, and one and a half ounces of mezcal to a shaker with ice. Shake and strain into a coupe or margarita glass. I like my drinks nice and frosty, so I added a nice cube of ice.
I used Sombra mezcal for my cocktail, and I'm looking forward to experimenting with other mezcals soon!
Mezcal Jalapeño Margarita
Additional Time:
30 minutes
Total Time:
1 hour
2 minutes
Smoky, spicy, and sweet, this margarita will delight your taste buds!
Ingredients
1.5 oz Mezcal (I used Sombra)
1 oz Triple Sec
1 oz Jalapeño simple syrup (see notes below)
2 oz Lime juice, fresh-squeezed
Instructions
Pour all ingredients in a shaker with ice.
Shake for about 30 seconds, strain and enjoy!
Please drink responsibly.
Notes
Jalapeño simple syrup is easy to make by dissolving 1 cup of sugar into 1 cup of gently boiling water, then add in two sliced jalapeños. Remove from heat, and let steep for 30 minutes to an hour, until cool. Strain and store your syrup in an air-tight glass jar in the refrigerator. For more simple syrup recipes, get our free "Ultimate Guide to Simple Syrups."
Nutrition Information:
Yield:

1
Serving Size:

1
Amount Per Serving:
Calories:

330
Total Fat:

0g
Saturated Fat:

0g
Trans Fat:

0g
Unsaturated Fat:

0g
Cholesterol:

0mg
Nutritional information is estimated and should only be used as a general guideline.