Making your own simple syrup for cocktails is easy and it's tons of fun to experiment with flavored simple syrup recipes. We'll tell you how to make and store simple syrup, and give you 40+ recipes in our free guide! Enter your email below for the full guide, or read on for more info!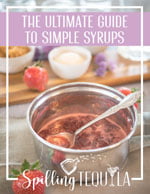 Subscribe and get our free "Ultimate Guide to Simple Syrups"
as well as notifications when we post new cocktail recipes!
What is Simple Syrup?
Simple syrup is a key ingredient used as a sweetener in many cocktail recipes. In its most basic form, it is made by combining equal parts sugar and hot water. Since sugar does not dissolve well in alcohol or in cold beverages, simple syrup is used to ensure that sweetness is uniformly mixed into a cocktail. It also adds a bit of density – a little "thickness" or "mouthfeel" – to a drink.
Simple syrup is readily available in liquor stores and most grocery stores. But there are many advantages to making your own.
First, it's super easy. Just pour one cup of sugar into one cup of water, heat, and stir until the sugar completely dissolves.
Second, making your own simple syrup is much cheaper than buying it. You'll also avoid high fructose corn syrup or any preservatives that might be in store-bought syrups.
Third, and probably most important, you can infuse homemade syrup with just about any flavor you desire. This offers a cheap, quick, and easy way to add a hint of flavor to your cocktails.
Basic Simple Syrup Recipe
Combine one cup sugar and one cup of water in a saucepan over medium-high heat.
Heat the mixture to a gentle simmer for 5 minutes to fully dissolve the sugar. You want to see steam coming from the surface and a few bubbles. Do not let the water come to a vigorous boil or you'll start boiling off water, which will affect your water to sugar ratio.
Stir with a whisk several times during the heating process.
Remove from the heat and cool for at least 10 minutes.
Pour into a clean, air-tight jar. A mason jar is ideal for your homemade simple syrup. It's a good idea to sterilize your jar in boiling water before storing your syrup to guard against any bacterial growth.
How to Store Simple Syrup
Store your simple syrup in an air-tight container in the refrigerator. A basic simple syrup with just sugar and water will keep for about a month in your fridge. Syrups with added ingredients can be stored for two to three weeks safely. If you notice your syrup starts to look cloudy, it's time to toss it and make a new batch.
If you really need your syrup to last longer, add one tablespoon of vodka before storing it in the fridge. The alcohol keeps away bacteria and your syrup will last up to three months.
Another way to make your syrup last longer is to make a "rich syrup" with a 2:1 ratio of sugar to water. The higher sugar content is a stronger preservative and will last up to six months! You'll want to experiment and use less of this syrup in your cocktails. Some bartenders say a rich syrup balances out cocktails even better than a simple syrup, though it depends on the drink.
You can also freeze simple syrup. A rich syrup might not freeze solid, which makes it easier to use on short notice without time to fully thaw.
Flavored Simple Syrup Recipes
Spilling Tequila has put together The Ultimate Guide to Simple Syrups that you can download for FREE! Just enter your email address below and we'll send you the link to download.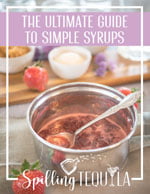 Subscribe and get our free "Ultimate Guide to Simple Syrups"
as well as notifications when we post new cocktail recipes!
In this guide, you'll learn about sugar-free alternatives for simple syrup, methods of flavoring your syrups, bonus ways to use simple syrup and more than 40 recipes!
Here's one of our favorites – a ginger simple syrup recipe that's amazing in so many cocktails (like this Grapefruit Ginger Bourbon Sour).
Ginger Simple Syrup
Use this Ginger Simple Syrup for a spicy kick in your cocktails or other recipes!
Ingredients
1/4 lb ginger, peeled and thinly sliced
1 cup water
1 cup sugar
Instructions
Place ginger in a saucepan with the water.
Bring to a low boil over medium heat, then reduce heat and simmer for 30 minutes.
Strain.
Add the sugar into the warm mixture and stir until dissolved.
Cool and store syrup in an air-tight container in the refrigerator.
Nutrition Information:
Yield:

8
Serving Size:

1
Amount Per Serving:
Calories:

90
Total Fat:

0g
Saturated Fat:

0g
Trans Fat:

0g
Unsaturated Fat:

0g
Cholesterol:

0mg
Sodium:

0mg
Carbohydrates:

28g
Fiber:

0g
Sugar:

25g
Protein:

0g
Nutritional information is estimated and should only be used as a general guideline.