Need a gift for a dad that likes to drink? We've got you covered with these great gifts for Father's Day, birthdays, or any time!
There are so many different kinds of dads we know and love. Some dads like bourbon, some like beer. My dad likes wine. No matter what your dad likes to pour in his cup on fathers day, let's celebrate him!
This post contains affiliate links to products and services we recommend. We may make a commission, and there is no cost to you.
These T-shirts are the perfect gifts for the dad who wants to up his T-shirt game and earn best dressed honors at corn hole.
These tumblers are great for the dad who enjoys an icy cold beverage with every sip. The Yeti Rambler is the perfect size for a whiskey, a vodka soda, or even a glass of wine. The Brumate will fit 12 oz and 16 oz cans straight out of the cooler! And the Stanley growler is perfect for filling up at your local brewery to enjoy at home or on a weekend camping trip.
4. YETI RAMBLER 10 oz. LOWBALL
5. BRüMATE HOPSULATOR TRíO 3-in-1
If the dad in your life loves making cocktails at home, check out these extras for their home bar. Dad will be able to smoke an Old Fashioned to perfection with this smoker gun. Or he can use this elegant decanter to pour a drink for a friend like they do in the movies. This was one is seen being used by Tony Stark in one of the Marvel Movies!
8. WHISKEY DECANTER AND GLASS SET
Is your dad a James Bond fan? These gifts are for the dad who wishes he was a secret agent. The StowCo Cooler Bag lets him stylishly keep his drinks cold at the picnic without carrying a huge bulky cooler. And the whiskey bullets will keep his bourbon cold but not watered down. They're sure to be a conversation starter!
This gorgeous bar set is perfect for the dad who likes to show off his drink crafting skills in style! It's a little "Game of Thrones-esque" don't you think?
11. BARTENDER COCKTAIL SHAKER SET by SkyFish
Pair any of these items with dad's favorite spirit or beverage, and you've got a wonderful gift for the dad who likes to drink.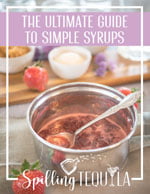 Subscribe and get our free "Ultimate Guide to Simple Syrups"
as well as notifications when we post new cocktail recipes!